Named for its inventor Harting Dove, Optical prisms of Dove (with antireflection coatings on the ends) completely invert an image by 180 degrees.
If the Dove prism is rotated about its axis the image will rotate at twice the rate of rotation of the prism.
Dove prisms (UV Fused Silica or BK7) provide a convenient and precise method of rotating a beam. The long length and square profile makes them easy to mount in a cylindrical sleeve.
As a kind of Optical Elements, Dove prisms need to be used with collimated or near-collimated beams because of the very limited field of view. When used as an image inverting prism the hy- potenuse face acts as a TIR surface and is therefore normally not coated. Therefore, this optical prism is important to keep this surface clean.
Dove prisms have an unusual and very interesting characteristic - if you look through the prism and rotate it around a longitudinal axis, the image rotates through twice the angle through which the dove prism itself rotates. For optimal peformance, use dove prisms with collimated light. Dove Prism is ground and the longest length (specified by dimension B) features an unbeveled sharp edge.
Dove Prisms are offered uncoated, with anti-reflection coated diagonal faces, or with aluminized diagonal faces. Aluminized dove prisms feature a protected aluminum coating with black Krylon paint on the diagonal faces and are ideal for displaced retroreflection. They provide a u-turn for incident laser beam light.
Reflection is displaced 49mm (in 15mm sizes) or 75mm (in 25mm sizes) when incident rays are centered on the diagonal face. Aluminized Dove Prisms can be used in imaging systems (with fields of view less than dimension A/ dimension C) to view areas behind the camera or around corners. They can also provide a split image, where one scene is displaced relative to the other.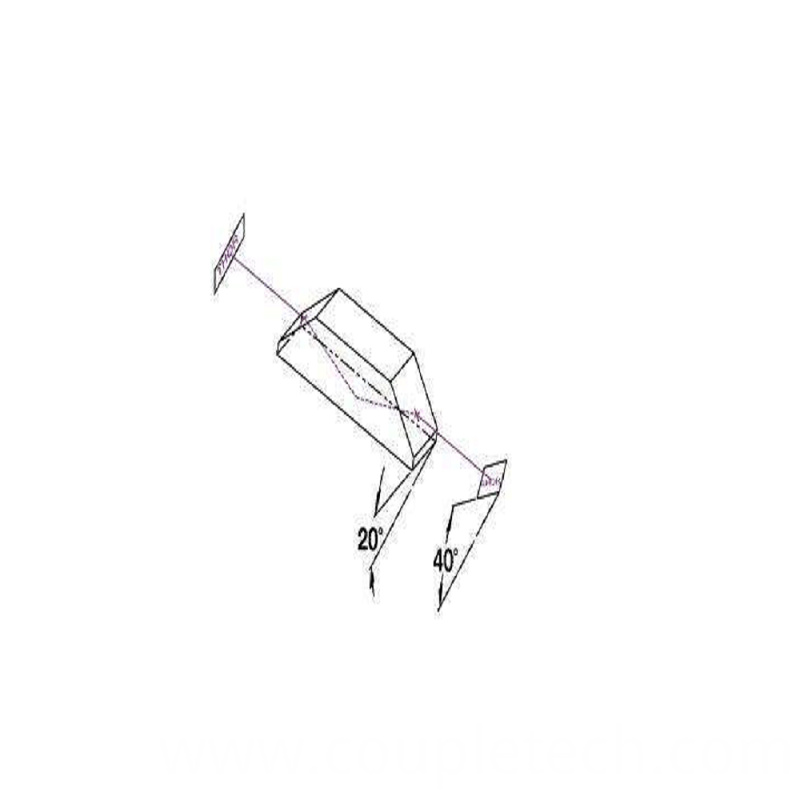 Coupletech also offers DP dove prisms AR coated on the hypotenuse for use in beam-folding applications.
As the Sl and S2 sides are used in a total internal reflec-tion (TIR) manner it is extremely important to keep these two surfaces clean.
Also provide other optical elements such as: Optical Lenses, Optical Filters, beamsplitter and Optical Windows.
Looking for ideal Dove Prisms Fused Silica Manufacturer & supplier ? We have a wide selection at great prices to help you get creative. All the Dove Prisms UV Fused Silica are quality guaranteed. We are China Origin Factory of Dove Prisms BK7 Glass. If you have any question, please feel free to contact us.
Product Categories : Laser Component > Optical Element