As a kind of Optical Elements, 90 Degree right angle bending prisms utilize the inherent total internal reflec-tion (TIR) at the hypotenuse to invert the image and achieve a 90°change in direction.
Antireflection coatings are applied to the two legs of a standard right angle prism(RAP) to maximize the overall throughput and reduce back-reflections off the interfaces to near zero. Because the internal reflection is independent of wavelength, the optical prism of 90 Degree right angle bending prisms can also be used as high energy 900 reflectors for broadband applications where metal mirrors are too ab- sorbing and dielectric mirrors do not reflect a wide enough bandwidth. The Applications of 90 Degree right angle bending prisms include UV beam routing, beam pick off and variable delay lines as well as broadband; High energy 90° reflectors; High energy AR and BBAR coatings are applied to Legs. The other, 90° Degree right angle bending Prisms can be used for a variety of applications.
Uncoated littrow dipersion prisms are used to disperse light into its component spectrum. Coated littrow dipersion prisms are used to deviate the line of sight by 60°. Littrow prisms feature 30°, 60°, and 90° angles, and depending on whether the B-C surface is uncoated or coated, this kind of optical elements are commonly used as dispersion or beam deviation prisms.
Optical prisms (Uncoated) is that collimated white light enters into the A-C surface of the prism, is reflected at the hypotenuse surface, and then dispersed into its component spectrum at the B-C surface. Although Littrow prisms produce narrower dispersion than equilateral prisms, Littrow prisms are typically less expensive.
The prism of optical elemtents (Coated) is that incident light enters into the aluminum coated B-C surface of the prism at the nominal angle and returns back using the same path. In spectrum dispersion applications utilizing white light, the solution performance of Littrow prisms is equal to equilateral prisms since the optical path length through the glass substrate is the same distance round-trip. Additionally, light entered into the A-C surface will reflect twice inside the glass substrate before being emitted through the hypotenuse surface at 60°.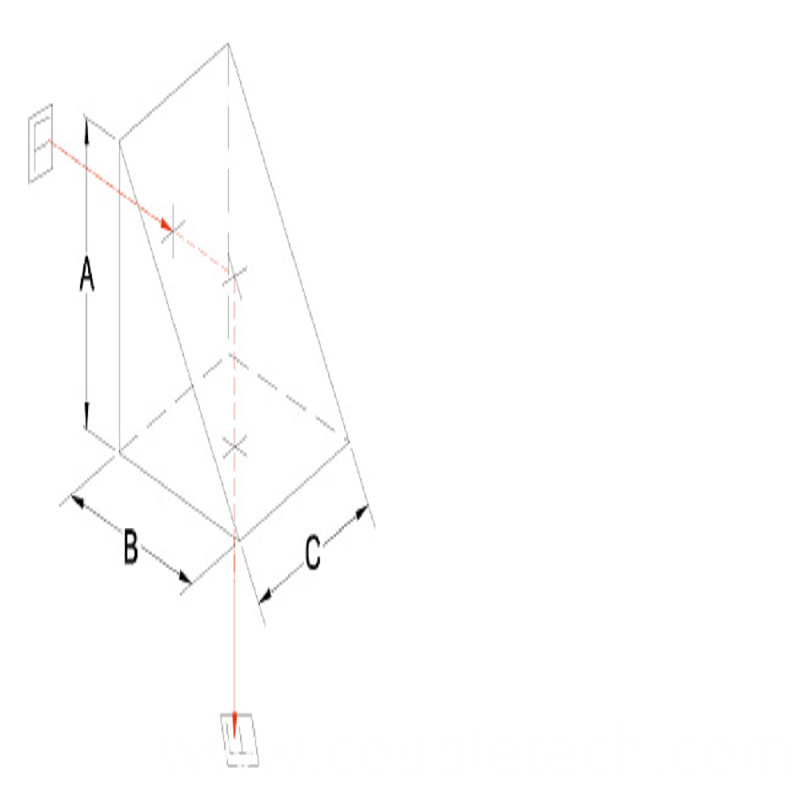 Right angle prism beamsplitter can bend the incidence light at 90 degree or 180 degree. For a 90 degree deflection the total internal reflection occurs at the hypotenuse face to invert image and achieve a 90 degree change in direction. For a 180 degree deflection the hypotenuse face is used as the entrance and exit face.
It is applied for laser beam bending light deviation image, image erection in periscopes and telescopes, retro-reflectors, and mirrors. Metal housing, standard and broadband antireflection coatings are available upon request, see our standard optics components below.
Coupletech also offer other optical elements, such as: Optical Lenses, Optical Filters, beamsplitter, Optical Windows, and Optical Mirrors.
Looking for ideal 90 Degree Bending Prisms FS Manufacturer & supplier ? We have a wide selection at great prices to help you get creative. All the 90 Degree Bending Prisms Fused Silica are quality guaranteed. We are China Origin Factory of 90 Degree Bending Prisms BK7 Glass. If you have any question, please feel free to contact us.
Product Categories : Laser Component > Optical Element