Fresnel Rhomb Prism (BK7 or Fused Silica) is used to rotate the plane of vibration of linearly polarized light.
It consists of two optically contacted Fresnel parallelepipeds of crown glass BK 7 or quartz glass Suprasil which by total internal reflection together create a path difference of 180° between the components of light polarized perpendicular and parallel to the plane of incidence.
As a kind of Optical Element, the Fresnel prisms and rhombs described on this page utilize the principle that when light undergoes total internal reflection, there is a relative phase change between the s and p polarization components.
This effect is only weakly dependent on wavelength (Figure 1). Thus, these components are ideal for those working at either multiple distinct wavelengths or with broadband sources in the 8 to 12 µm region.
It`s often necessary to alter or manipulate the source`s polarization.
For example, a reflective phase retarder converts linear to circular polarization and improves the laser cutting quality. (For reflective phase retarders, please see Phase Retarders.) However, most polarization altering devices -- the reflective phase retarder and waveplates -- are very wavelength sensitive and offer only narrowband, or single wavelength operation.
Over a relatively wide range the retardation is only minimally wavelength dependent, see curve.
This Polarization Rotator can only be used for very small acceptance angles.
The parallelism error of the prism combination is less than 2". The end faces are adjusted perpendicular to the rotation axis. The usable aperture is 9.5 mm.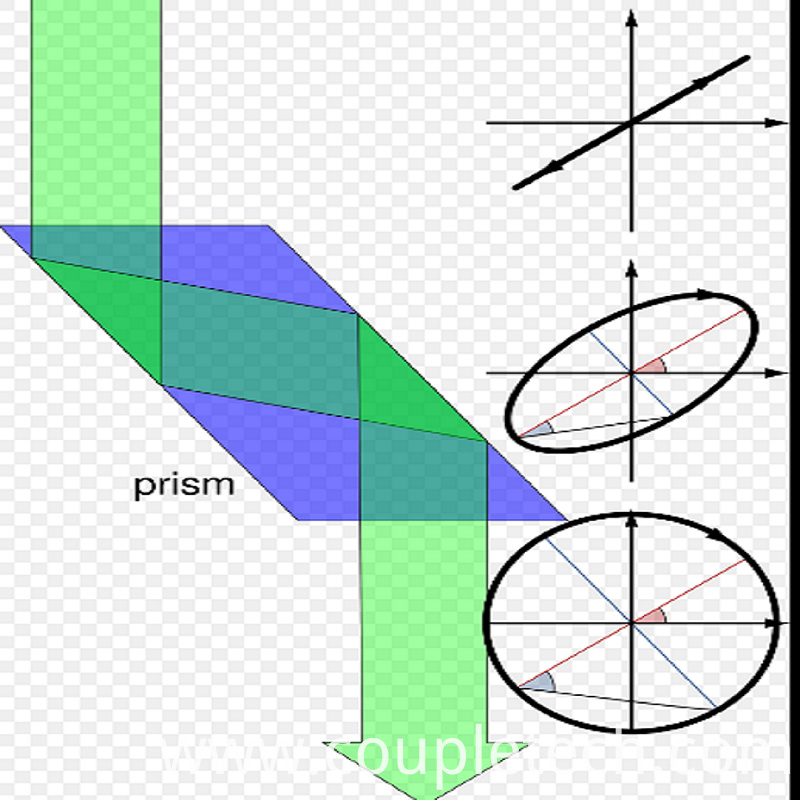 The holder is provided with a graduated circle marked from 0° to 360° and is supplied with a mounting rod.
The Fresnel Rhomb Prism is mounted in easily rotatable ball bearings so that a motor drive can be fitted; however, the rotating parts are not balanced.

Coupletech also provide other kinds of Optical Elements such as : Optical Lenses, Optical Filters, Beamsplitter, Optical Windows, Optical Mirrors and optical prism.
Looking for ideal Fresnel Rhomb Prism BK7 or FS Manufacturer & supplier ? We have a wide selection at great prices to help you get creative. All the Fresnel Rhomb Prism BK7 are quality guaranteed. We are China Origin Factory of Fresnel Rhomb Prism Fused Silica. If you have any question, please feel free to contact us.
Product Categories : Laser Component > Optical Element